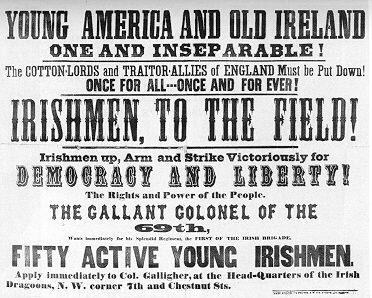 Civil War reenacting is one of the most exciting and colorful hobbies a person can do. It is unique in its ability to allow one to step back in time, and enables a person to take their interest in this fascinating period of American history to a new level.
The purpose of the 69th NYSV Historical Association , Inc. is the research and study of the history of one of the most famous regiments in American history, the 69th New York State Volunteers. The Association exists essentially as a club, involved in research, study, and commemoration of the officers and soldiers of the 69th NYSV.
The 69th NYSV, Company A, our military reenactment group, portrays the Regiment during the year 1862, when it was at its peak strength. It has a military command structure in accordance with the U.S. Army Regulations of 1861, and is conducted in the field as such a company would have been during the war. The Association's civilian group jointly participates with Company A in all its events, with our civilian members attired in period clothing and conducting activities appropriate to the time. We are a progressive reenacting unit with a propensity towards campaign camping.
Membership in the 69th NYSV Historical Association, Inc. is open to all individuals with an interest not just in the 69th NY, but in the study of the Civil War in general. The Association is family oriented, and encourages full participation on that basis.
Membership dues for the 69th NYSV Historical Association are $25 per calendar year for both military and civilian reenactors. Other non-reenactor friends of the Association are assessed dues of $15 per year. There is also a rate for families of $35 per year. These dues pay for postage and other operation costs of the Association.
Do not feel intimidated if you have not done reenacting before. Every one of us had to start somewhere, and we are willing to assist you in any way to make your transition into the hobby an easy one.
The 69th NYSV is currently seeking the following recruits:
Soldiers - Period uniforms and weapons. Battle reenactments in realistic battle conditions and living histories.
Musicians - Fife and Drum. Period costume and music. Age 11 and up.
Civilians - (Male and Female) Period clothing reflecting civilians and their occupations. All ages.
Associate Members - Historical Association and the study of the Regiment.
To enlist as a Soldier or Musician in the 69th NYSV or to join the 69th Historical Association as a Civilian Reenactor or Associate Member, please fill out one of the following forms and follow the directions included to submit it and the applicable dues.